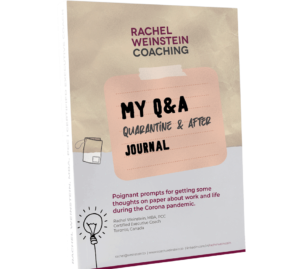 Full of expert prompts and complete with an action plan template, this guided e-journal is my gift to you and your team.
There's so much to process during this time of lockdowns and social distancing due to Covid-19. My hope is this tool will help you to be calmer and more focused as you navigate life and business right now; uncovering the opportunities within this exceptional experience.
For every copy requested below, I will make a donation to Michael Garron Hospital in Toronto, where my sister is a front-line worker.
Here's a taste of what's inside….
Request the full journal by completing the form below – it's free!
(Your copy will be fillable on your screen; no printing required!)
NOTE: CHECK YOUR SPAM FOLDER IF YOU DON'T GET AN E-MAIL RESPONSE WITHIN 2 MINUTES.
By submitting this form, you are requesting a copy of My Q&A (Quarantine and After) Journal. After that, you'll receive other insightful content from Rachel Weinstein Coaching to help you enhance your career and business. You can unsubscribe anytime.