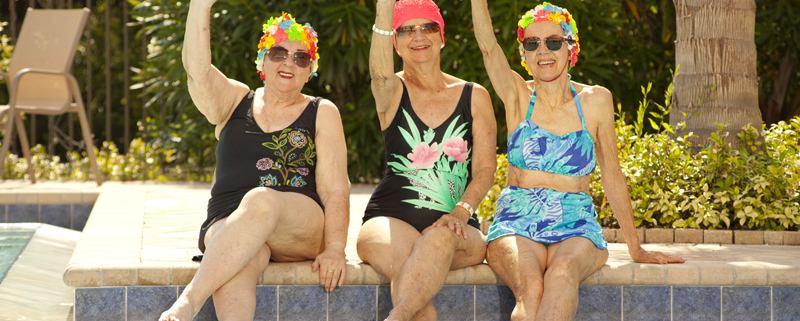 According to research done by Britain's Institute of Economic Affairs, retirement increases the probability of suffering from clinical depression by about 40% and it increases the probability of having at least one diagnosed physical condition by about 60%.
Sounds horrible, no? So why do people retire? We've convinced ourselves it's because the pool-side relaxation at the end of 4+ decades of work is our birthright. Frankly, it's only because in the 1880s, the Chancellor of Germany put into place the novel idea of contributing state funds to support people over 70 who could no longer work. Life expectancy was then about 65, so really, not many people actually retired.
Shortly thereafter, however, North Americans adopted the idea, dialled back retirement age to 65 and never adjusted it. Financial planners who want your business tempt you with visuals of a perfect life on the horizon; a time with no cares in the world. The thing is, today we can expect to live to 80, so we have a precarious 15 years – some will surely have 30– to try to avoid the real hazards of retirement.
Retirees can lose their footing in society, and start to question their purpose, even if they're doing deep reflection from a beach in Hawaii.
According to psychologists, connecting to one's purpose is a trait we all share, regardless of level of wealth. Whether you're a bus driver or a CEO, the right perspective can inspire a feeling of doing meaningful work. Take that work away, and aligning with daily purposeful activities becomes a lot less clear. And it's making us sick.
Here's what we can do about it: Stop aiming for retirement, and rather, aim for being "selfishly employed". If you really want out of the rat race, save your pennies for the goal of working at something you love and that's aligned with your physical capacity. Consult, teach yoga, write, sell cookies, fundraise, whatever. As long as you insert yourself into something that forces you to think, be relied upon, socialize and get up in the morning to give your gifts to the world.
For retirees reading this whom I've frightened, I have something for you. I started an initiative last year called More to Give. Until now, I've kept this free coaching offer off my public profile, sharing it only with my personal network. I'm putting it out here now because I'd like to meet more amazing retirees and help them to feel great about this chapter of their lives.
(If you read about More to Give as a younger person, I hope it attunes you to encouraging our seniors to identify and act on their true relevance and importance in our society.)
Here goes! 
***
MORE TO GIVE: A FREE coaching program for retirees in the Greater Toronto Area
with Certified Coach Rachel Weinstein
"Tell me more…"
The intention of this program is for you to feel an increased sense of purpose and pride every day through giving more.
Of course, you already touch people's lives through the giving of your time and talents. This is a way to expand from there if you have a desire to do so.
If you are a sharp-minded 65-105-year-old living in Toronto who's not working and feel that you have more to give (even if you're in a situation where you're required to receive assistance of some type from others) then you qualify for this FREE program.
"What will I get?"
The program includes an in-person conversation with me, a Certified Coach. As a Coach, I support people to define, pursue and meet their goals.
Working together, you'll design a plan as to how you will contribute something more – however big or small – that feels meaningful to you. You might have started to think about this, but it's often easier to get clarity through speaking to someone.
"Where and when would we meet?"
I am taking on a limited number of new participants a month, and when you get in touch, you'll be booked in the first available slot.
Our meeting will be about an hour. We can meet at your local coffee shop or community centre, anywhere in Toronto. If you're in a retirement residence, we can meet in the public space there. (I apologize, but for safety reasons, I can't come to private homes.)
"Why are you doing this?"
Because I believe that your longevity is a gift to the world. You have a lifetime of accumulated skills and wisdom that others can benefit from, and I know you have a sense of that, too.
"I'm actually thinking about getting back into the workforce in some capacity. Can we talk about that in our sessions?"
Not as a part of the MORE TO GIVE program, however, this is certainly a topic well suited for my standard coaching programs. Contact me at rachel@weinstein.to and we can chat more about job/career coaching engagements. Or visit my website at www.coach.weinstein.to.
"MORE TO GIVE sounds amazing! How do I sign up?"
Please contact me by e-mail to set up our first session! rachel@weinstein.to
 "I'm a little hesitant, not sure what more I have to give, and haven't heard of this type of 'coaching', but I'm intrigued. Can I ask you some questions?"
Anytime. Contact me at rachel@weinstein.to 
"I'm a Coach and would love to do this type of work, too."
Amazing! If you would like to work with me to expand this initiative, let me know! I think meeting retirees in person is most effective, so I'd love to expand into other geographic regions. rachel@weinstein.to.
https://coach.weinstein.to/wp-content/uploads/retirement-higher-res.jpg
533
800
Rachel Weinstein
https://coach.weinstein.to/wp-content/uploads/rwlogo2.png
Rachel Weinstein
2018-06-13 14:20:20
2020-06-04 02:18:19
Warning: Don't Retire